C0N$TRUCT!0N 002, I Am Not Your Negro and The Color of Money.
A featured article by Teresa and Sam and a podcast covering Do The Right Thing directed by Spike Lee.
Welcome to the third installation of The Q: your one-stop weekly newsletter of culture recommendations. Can't find a platform where you can receive condensed, reliable, pop-culture content? Yeah, we can't either.
Every Saturday morning in your inbox, you'll find a featured article, an album, a film, a playlist, a book, a video, and something funny we found that week. Oh, and a 2 Virgins podcast episode, where Sam and Teresa talk about a recommendation while drinking virgin drinks. We also invite a guest onto the show every week (that guest could be you!)
Follow us on new socials!
Twitter: https://twitter.com/quarantinecont

Facebook: https://www.facebook.com/quarantinecont

Instagram: https://www.instagram.com/quarantine_cont/
---
Featured Article
"How to be Active in the Black Lives Matter Movement" by Teresa Xie and Sam Fleming
This post serves as a joint article between Teresa and Sam, in which we provide select resources to stay active in the Black Lives Matter movement. We recognize that many lists can be overwhelming, and wanted to explain and highlight petitions, places to donate, and books that we find particularly important. In recent days, we have been disappointed by much of the performative activism that has been circulating and hope to facilitate a community in which people are continuously educating and supporting the Black Lives Matter movement beyond their computer screens.
---
Album
C0N$TRUCT!0N 002 & unsounded points of view by maassai
We're recommending a couple of shorter projects this week, but both speak to the depth of New York hip-hop right now. maassai is a rapper from Brooklyn whose sound is always buried a bit beneath the surface of the beat.
---
Film
I Am Not Your Negro directed by Raoul Peck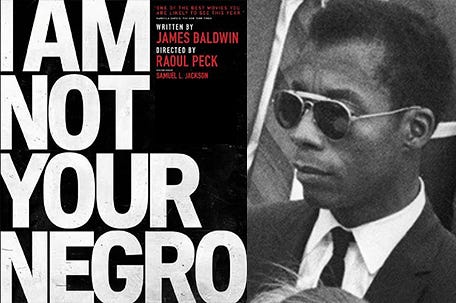 Raoul Peck's documentary I Am Not Your Negro draws inspiration from James Baldwin's unfinished manuscript, Remember This House, which was intended to be a recollection of the works of civil rights leaders Medgar Evers, Malcolm X, and Martin Luther King Jr. The reflections on these men and legacies come in the form of passages from books and essays, including The Devil Finds Work, Baldwin's meditation on race, and the myth of white innocence.
---
Book
The Color of Money by Mehrsa Baradaran
You may have heard people say, "We should keep our business in our communities" or "support Black banks," but not completely understand what that means. In The Color of Money Baradaran breaks down what these two phrases mean and why keeping money in the Black community is both more complicated and counterintuitive than it may seem.
---
Playlist
Yeabe Fekade's full clip features Black Milk, Clipse, and Death Grips.
Yaebe's favorite track: "Exhibit C" by Jay Electronica
Description: "Good mix of all eras of hip-hop (although bias towards conscious rap and jazz rap). Some obscure gems but also some all-time greats."
---
Podcast
Two Virgins Episode #3: Do the Right Thing, Coffee with Cream, and Malachi Jones
On this week's episode, Sam and Teresa talk about the film Do the Right Thing directed by Spike Lee, over a cup of coffee with cream with their mutual friend, Malachi Jones.
---
Favorite Tweet
---
Thanks for reading! But wait, before you go, we have a deal for you. If you share our newsletter with 5 different people, email us, and we'll enter you in a raffle for a $10 Amazon gift card. For every additional person after the initial five, we'll enter you again. Deal?
xx Teresa and Sam