hybtwibt?, Shirley, and Woman at Point Zero
A featured article by Onwueg and a podcast covering the show "Normal People."
Welcome to the fifth installation of The Q: your one-stop weekly newsletter of culture recommendations. Can't find a platform where you can receive condensed, reliable, pop-culture content? Yeah, we can't either.
Every Saturday morning in your inbox, you'll find a featured article, an album, a film, a playlist, a book, a video, and something funny we found that week. Oh, and a Two Virgins podcast episode, where Sam and Teresa talk about a recommendation while drinking virgin drinks. We also invite a guest onto the show every week (that guest could be you!)
Follow us on new socials!
Twitter: @quarantinecont

Facebook: @quarantinecont

Instagram: @quarantine_cont
---
Featured Article
"Indie Pop Blues: The Totally Uncool Whitewashing of Rock Music" by Onwueg
I didn't know it at the time, but the best gift I ever received was an ugly little green iPod from my brother when I was about seven years old. It was one of those iPod nano's: a less memorable iteration of the iPod, it was no bigger than a bullet, and that unfortunately colored bullet packed hundreds and hundreds of songs
---
Album
hybtwibt? by Space Afrika
The newest project from the Manchester-based, dub-techno outfit Space Afrika, feels like scrolling through someone else's hazy memories. While in Space Afrika's previous work a thumping techno beat drove their sound, on hybtwibt? the backbeat fades away and the music is built entirely on sampled voices. Sometimes these voices come in the form of distant song vocals but most of the time they sample everyday people talking about their lived experience.
---
Film
Shirley directed by Josephine Decke
I've long argued that Elisabeth Moss should be considered one of the greatest actresses of this decade. While much of her work involves television series, most notably Mad Men and Handmaid's Tale, she has engaged in nothing but stellar performances in movies such as The Square, The Invisible Man, and most recently, Shirley. However, even her roles in television are advanced and difficult to execute; not everyone can embody the development of Peggy Olson and Offred as Elisabeth Moss can. Similarly, Elisabeth Moss' portrayal of the horror writer Shirley Jackson in Shirley is what ultimately advances this film from great to daring.
---
Book
Woman at Point Zero by Nawal El Saadawi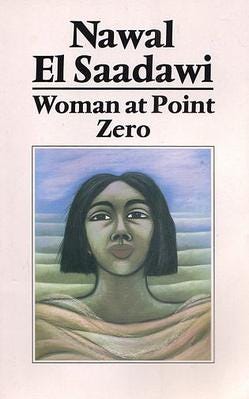 It shook me to my core, stressing the inescapable reality of what life is for many women and femmes, inflaming within me an inexorable sense of rage. Woman At Point Zero, written by Egyptian author Nawal El Saadawi, is the most captivating and heart-wrenching text I have ever read. While published in 1975, decades ago, the novel resurfaces ceaseless issues. Readers transfix to its entire 114 pages: not a single page is skipped, not a single word is missed. Following the life of a woman hours before her death, Saadawi documents Firdaus's story for her.
---
Playlist
Sam's favorite track: "How Far is Spaced Out" by Lonnie Holley
Description: "I been thinking of space a lot and this playlist takes me there. All the way from blast off through landing."
---
Podcast
Two Virgins Episode #5: Normal People, Iced Matcha, and Gio Paz
On this week's episode, Sam and Teresa talk about the TV show Normal People over a cup of iced matcha with Teresa's friend, Gio Paz.
---
Favorite Tweet
---
Thanks for reading! But wait, before you go, we have a deal for you. If you share our newsletter with 5 different people, email us, and we'll enter you in a raffle for a $10 Amazon gift card. For every additional person after the initial five, we'll enter you again. Deal?
xx Teresa and Sam