Weight of the World, Lucky Grandma and Pachinko
A featured poem by Caitlyn Woodall and a podcast covering Teyana Taylor's "The Album."
Welcome to the sixth installation of The Q: your one-stop weekly newsletter of culture recommendations. Can't find a platform where you can receive condensed, reliable, pop-culture content? Yeah, we can't either.
Every Saturday morning in your inbox, you'll find a featured article, an album, a film, a playlist, a book, a video, and something funny we found that week. Oh, and a Two Virgins podcast episode, where Sam and Teresa talk about a recommendation while drinking virgin drinks. We also invite a guest onto the show every week (that guest could be you!)
Follow us on new socials!
Twitter: @quarantinecont

Facebook: @quarantinecont

Instagram: @quarantine_cont
---
Featured Article
Movie Date | a poem on interracial dating by Caitlyn Woodall
viola davis is looking at us through the screen
and she's laid up with this white man
and mine leans over and tells me that could be us one day
but i'm tired of hearing him breathe
so i shake up the ice in my coke
---
Album
Weight of the World by MIKE
MIKE's music is the heart of what great hip-hop has always aimed to be. He strips back every layer that traditionally masks an artist from their audience. His beats are never clean or punchy, his lyrics are often more muttered than rapped. MIKE never feels like he is performing, instead it feels like he is talking directly to you through his lyrics.
---
Film
Lucky Grandma directed by Sasie Sealy
Within five minutes of watching Lucky Grandma, I fell into its comfort. After the initial montage of Nai Nai smoking a cigarette without a care in the world, bargaining with street sellers in Chinatown, and doing Tai Chi during a water aerobic class, the film introduces Nai Nai's family, which consists of her son, daughter-in-law, and Westernized grandchildren. As Nai Nai's son tries to convince her to move in with them, their dialogue effortlessly switches between Chinese and English, a pattern that I often fall into with my own family.
---
Book
Pachinko by Min Jin Lee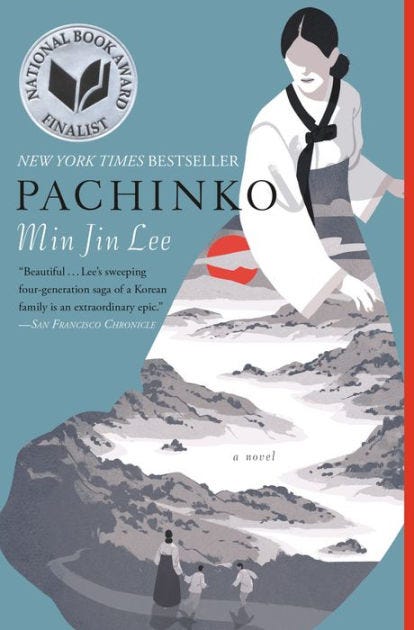 Like a maze made of brass needles, the story drops you in like a Pachinko ball, constantly taking you through endless twists and turns to discover the unimaginable. The story is calm, the story is romantic. It also becomes extremely thrilling and distressing. The novel is a documentation of real experience. It is about the collective, not the individual.
---
Playlist
David Welch's u need to breath bitch. features The Paper Kites, M83, and khai dreams.
David's favorite track: "Dissolve" by Absofacto
Description: "'u need to breath bitch.' is such a good playlist for anxiety!"
Follow David on Tik Tok and Instagram!
---
Podcast
Two Virgins Episode #6: The Album, Chocolate Milk, and Sonny Lee
On this week's episode, Sam and Teresa talk about Teyana Taylor's newest project "The Album" over a glass of chocolate milk with mutual friend Sonny Lee.
---
Favorite Tweet
---
Thanks for reading! But wait, before you go, we have a deal for you. If you share our newsletter with 5 different people, email us, and we'll enter you in a raffle for a $10 Amazon gift card. For every additional person after the initial five, we'll enter you again. Deal?
xx Teresa and Sam